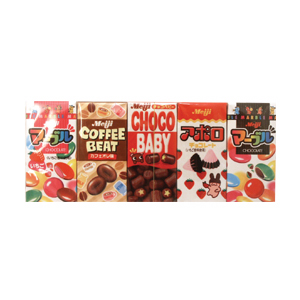 Chocolates are delicious snacks for all ages. Whether you like it really sweet or slightly bitter, Meiji Chocolates have something in store for you. Their chocolates are interesting. They have Apollo, Choco Baby, the Meiji Chocolate bars that come in milk chocolate and dark chocolate and they also have samplers of their chocolates, the fancy ones. They are exported so you could try finding them in your local shop.
Meiji Chocolates really experiment on their varieties of chocolate. Apollo, for example, is a sweet concoction that is popular for its strawberry-choco variant. It has a conical shape with ridges. It is also available in chocolate-vanilla.
Chocobaby is neatly packaged in a plastic dispenser with a flap. And it has little chocolate beads in it. Think something like Tic-tacs or mints. And the nice thing about the container is that you could actually use it for other things like placing your pins there and other little things that you would not like lying around. (Make your own container from this!)
One time there is a feature on Pocky. Meiji happens to have Yan-yan. They are not as thin as the Pocky biscuits but the fun thing about eating them is that you are the one who will dip the biscuit sticks in the chocolate, peanut butter or whatever dip your Yan-yan has.
It seems like Meiji Chocolates are not just popular in Japan. They are also known internationally. Who could resist the yummy snacks and the cute packaging they have? Eating them could be quite an experience. If you could find a sampler of Meiji chocolates, that is good for you so that you could figure out which ones you like a lot. And if you happen to like them all, you could have a little bit of all them as you wish.