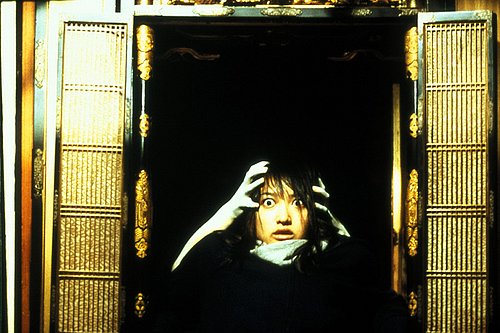 Since my topic was Japanese cinema for my last blog post please allow me to talk some more about Japanese films, most especially the horror genre.
I have always loved horror movies. It was my guilty pleasure during my teen years. I would devour horror movies like they were caramel popcorn. Quality was never a criteria for me when it came to horror. B-movies, straight-to-video boobfests, I'd watch them with gusto. Of course, at that time everything was all about American horror because that was what the local video stores would carry. I got to watch Romero, Raimi, and Corman's oeuvres, as well as the weird b-movie stylings of (the stuff).
But of course, Japanese horror – once I discovered it – blew all of those pretenders away!
What makes Japanese horror so good? Simple. The reliance on atmosphere and quiet foreboding, which is so far removed from the American horror formula of sudden surprises that are designed to make you scream. Japanese horror, to my mind, is so much more mature and really drives the elements of horror home. You rarely scream when you watch Japanese horror films – yes, you'd sometimes jump in your seat, or maybe even scream. But what makes Japanese horror stand out is when you turn off the TV or when you go out of the theater. Japanese horror is like some supernatural soot that attaches itself to your skin and is hard to shake off. It lingers at the back of your mind and plays tricks with it. The mind is the malleable plaything of Japanese horror.