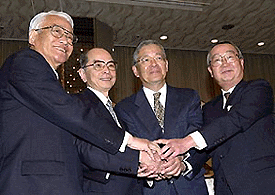 In our ongoing look at the Japanese economy, we study what is different now from what made everything seem so bad ten years ago…
The Japanese economy of today stands in sharp contrast with that of 10 years ago in an extremely significant area- the banking sector.
By end-September 2005, the ratio of at major banks had fallen to below 2½ percent from a peak of 8½ percent in early 2002; the situation at regional banks improved as well, although more modestly.
With banks having less need to make provisions against impaired assets and bad loans, their profitability also recovered, although it still remains low by international standards.
On the whole, Japan's banks are now less vulnerable to shocks and better able to support economic activity. Whereas corporate restructuring and the economic recovery helped reduce the overhang of bad debts, heightened government efforts in supervision and other areas has played a vital role in restoring the banking system to health.