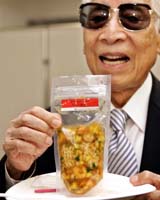 Earlier this month, Momofuku Ando, the "Father" of instant ramen passed away after suffering a heart attack after eating his famous chicken ramen with his employees . At 96, the inventor of the dish that sustains students in universities all over the world was the chairman of Nissin Foods Corporation, which he founded.
Nissin Food Products, was started by Mr.Ando in 1948 as a means to help feed the war-torn people of Japan post WW2. His invention, the
"Chicken Ramen", which was the first instant noodle in the world, was introduced in 1958 and became a huge success.
The famous "Pot Noodle" debuted in 1971 and the rest is history. In 1999, The Momofuku Ando Instant Ramen Museum opened in Ikeda City, western Japan paying tribute to this remarkable inventions.
The photo above shows Mr.Ando with his noodle invention for astronauts. He was showing off the "Space Ram" at the Instant Noodle Museum in Osaka 2005, a project he was very keen on. The first "space noodle" was brought aboard the space shuttle "Discovery" on the 26th by Japanese astronaut Soichi Noguchi.
[tags]Japanese food, ramen, inventions, instant noodles, Momofuku Ando[/tags]